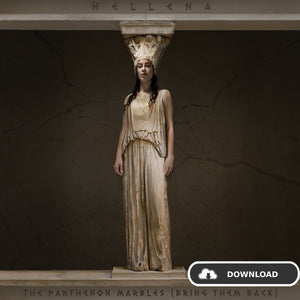 Inspired by, and dedicated to, The Parthenon Sculptures. With this song, Hellena calls out for their return to Greece to reunite with their other half.

A song written out of respect for the arts and humanity.

Download includes a dreamy zip file for your enjoyment! 
WAV & MP3 Files
Secret Live Version MP3
Secret Photos
Lyric Sheet
*A little piece of history: A British ambassador called Lord Elgin in the 1800s stole many of the Parthenon Sculptures from Greece which are currently held unlawfully in the possession of the British Museum.


- Once the purchase is complete, you will be taken to a download page. You will also receive an email with a link to access your downloadable songs.
- Please contact us at info@hellenaofficial.com with any questions you might have.